What is custom fluoroelastomer mixing?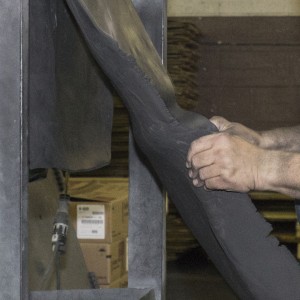 Custom fluoroelastomer mixing can be described very simply. Fluoroelastomers are polymers that can withstand severe conditions and environments – including chemicals and extreme heat.
Our relationships with the major FKM suppliers and their technical departments (Chemours®, 3M-Dyneon®, AGC Chemical-Aflas®, Solvay Solexis-Tecnoflon®, Lianda®) ensures we are kept up to date with new developments.
Experience in Custom Fluoroelastomer Mixing
Since 1983, we've been custom mixing fluoroelastomers to suit a majority of applications. In that time, Rainbow Master Mixing has developed a vast library of fluoroelastomer compounds. We have formulations for a variety of applications including, but not limited to:
Low/no post cure
Low cost
Compounds for compression/transfer/injection molding
Compounds for extrusions
Compounds for calendaring
Colored compounds
Chemical resistance
Military/aerospace (MIL-AMS)
Food/Beverage/Pharmaceutical
Metal Bonding/fabric Adhesion
Dupont gasket code compounds
Oil/Gas
Automotive/truck/rail
Base resistance compounds-Viton® ETP-S/Aflas®
Perfluoroelastomers
Rainbow Mixed Compounds
Rainbow Master Mixing has built a history of supplying quality based fluoroelastomer compounds to our customers for a variety of applications.
Materials
Our compounds range from general purpose fluoroelastomers to ones that provide exceptional heat and chemical resistance.
Color Options
Your color options include black, white, brown, green, blue, red, and orange.
Durometer Range
Durometer Range from 50 to 95 Shore A.
Form
We supply our mixed compounds in either slab or strip form.
We will work with our customers to develop formulations to meet their needs. Additionally, Rainbow Master Mixing, LLC is a Dupont elastomers Genuine Viton® licensed manufacturer.

Supplying quality mixed fluoroelastomer compounds to customers worldwide.
With a fluoroelastomer compound library like ours, there's no industry we can't serve with quality product.